Meet Our Doctors
Chiropractors at Lindenwoods Chiropractic
Meet Dr. Dan Timmerman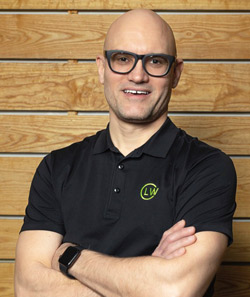 Fascinated with Chiropractic from a Young Age
Dr. Dan has always been fascinated by our body's ability to heal and he loves providing health and wellness care to Winnipeg families.
Dr. Dan's decision to become a chiropractor was hugely based on the fact that his great friend's dad was a chiropractor. This same friend attended school to become a chiropractor. Dr. Dan always loved chiropractic and started seeing a chiropractor in 7th or 8th grade following some sports injuries. A friend of his recommended that he see his chiropractor. "I started seeing him. I was very intrigued by it. I still remember that as a younger kid and being really fascinated by how this all works."
Dr. Dan didn't get a bigger picture until he started seeing a chiropractor for a while. Then in 10th grade, he got into a car accident and started seeing his friend's dad, the chiropractor. He taught Dr. Dan what chiropractic is and how it affects someone's health and life.
That's when I really started thinking about chiropractic as a career; a car accident directed me in that way.
Everything We Need to Be Healthy
The underlying philosophy of chiropractic is that we have everything that we need on the inside to be healthy. We still need good food, exercise and sleep, but on the inside, we have the ability to heal. Everything just needs to work properly.
Dr. Dan finds it fascinating how everything is so controlled by that power that we have on the inside of us to heal. An adjustment, for example, enables our body to be able to heal again. Dr. Dan often sees patients come in at the tail end of their issues. At that point, they've already seen a lot of doctors, including chiropractors, and just want answers. It's then when they're most willing to dive in and find out how chiropractic care can work and help them.
CHIROPRACTIC CARE »
Achieving Academic Excellence
Dr. Dan was the valedictorian of his class at College Louis-Riel. After earning a Bachelor of Science, he headed to Georgia to attend chiropractic college at Life University. His friend's father told him it was the best school for chiropractic, so it was clear to him that that's where he wanted to go. He earned his Doctor of Chiropractic, graduating magna cum laude.
One of the highlights of his education was meeting people from all over the world. "I had classmates in their 40s, 50s and 60s." He saw that they were passionate about becoming a chiropractor even at 50 years old. For Dr. Dan, chiropractic isn't just a job; it's a way of life, it's a passion that he wanted to tap into.
Dr. Dan is also CPR certified.
Primary Focus
Pediatric, Pregnancy and Family Chiropractic
Outside-the-Office Interests
When he's not working, Dr. Dan and his amazing wife, Rhonda, love spending time with their three young boys, who are active in sports. He also likes to run and plays both golf and hockey.
Learn more about Dr. Dan's safe and gentle chiropractic care. Call (204) 474-1159 today to schedule an appointment.
Meet Dr. Pascal Breton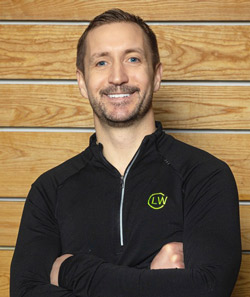 A Lifetime Patient of Chiropractic
Under chiropractic care since birth, Dr. Pascal has a personal connection to chiropractic care that many doctors don't have. He's witnessed numerous important people in his life benefit from chiropractic care.
Possessing Considerable Education and Certifications
Because Dr. Pascal has been in close contact with the profession from a young age, becoming a chiropractor himself made perfect sense. In 2015, he graduated summa cum laude from the renowned Life University with a Doctor of Chiropractic. Dr. Pascal was named valedictorian of his class. In addition to his doctorate, he possesses a Bachelor of Science degree and the following credentials:
CBP-Advanced Practitioner
Scientific Exercise Approach to Scoliosis (SEAS) certified
Level 2 CrossFit Coach
CPR certified
Primary Focus
Restoring proper posture and habits for the whole family.
Restoring Health and Wellness to Winnipeg
Dr. Pascal's goal for his patients begins with education as he aims to help them understand the importance of how our body functions versus how we feel. He believes a patient should never wait until they're in pain to seek chiropractic help, but be proactive in preventing problems before they become a serious issue. This puts patients on the best path to achieve optimal health and wellness without drugs or surgery.
CHIROPRACTIC CARE »
Outside of the Practice
When he isn't helping patients unlock their true health potential at Lindenwoods Chiropractic, he enjoys spending time with his wife Renee-Claire and his two children, Stella and Remi. Dr. Pascal and his family love spending time in the wilderness, camping, fishing and hiking the trails! As a fitness and nutrition enthusiast, exercising and healthy foods are very important to Dr. Pascal.
Ready to learn more about how Dr. Pascal can improve your health? Contact us today to book your appointment.

Lindenwoods Chiropractic Doctors | (204) 474-1159